Classic Assessments Events
Helmingham Hall Festival of Cars, Suffolk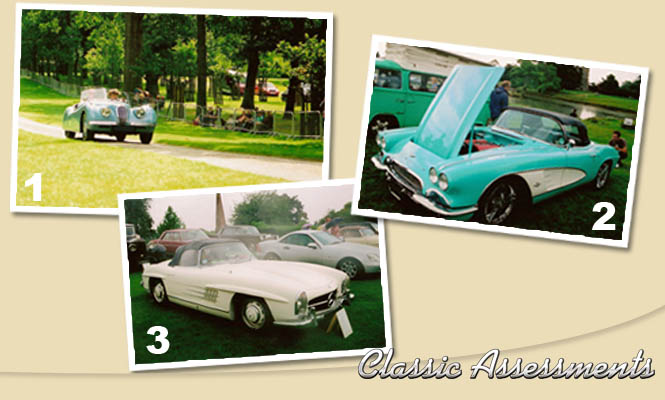 Again I attended this annual event, one of the largest of its type in East Anglia. This year saw over 600 vehicles booked in, although on the day the weather was wet and stormy in the afternoon, and many of the 'fair weather' vehicle owners didn't turn up. Still, over 350 vehicles braved the rain and a good display and much needed funds for charity was a result. The event is (part) organised by the Suffolk Vehicle Enthusiasts Club – a local multi make vehicle club which is well organised.
Myself, I manned the main entrance for the displaying vehicles from 08.00 to about 12.00 hours, luckily my marshalling stint was in the dry, but the rain came from lunch time.
I took the Austin-Healey 100/Six, which was much admired. It even featured in a write-up in the Mercedes-Benz Club's Gazette no less! Here are just some of the many exhibits from the event.
Here are just some of the many exhibits from the event.
1 Jaguar XK120 OTS on 'the Concourse-run' down the Hall's main Drive - and in sunshine!
2 Early 60's Chevrolet Corvette V8 – America's Sports Car.
3 Mercedes-Benz 300SL Roadster – A real Gentleman's Carriage– even in the rain!
We provide independent vehicle inspections including Pre-Purchase Inspections, Vehicle Valuations, Modified Vehicle and Engineers Reports, Accident Assessments and Restoration Estimation and Project Management Services.

For expert advice, experience and dedication to Historic Vehicles contact Classic Assessments on 07968 167331 or by email at brian.page@classicassessments.com